Sun Valley is one church in multiple locations – including wherever you are right now.
One of the incredible things about the time we live in is that the Church is not limited by buildings or geography. We love gathering together in person, but that isn't possible for everyone, all the time. Our hope is that Sun Valley at Home gives everyone the chance to gather together in worship, connect with others, and find resources that will encourage and enrich them. This Church is never closed.
Daily Devotional

Connect with Jesus on a daily basis by signing up to receive a video devotional from our pastors and leaders.
MDWK

Weekly, we gather online for LIVE prayer and worship. Join us as we pray for our community, leaders and the world.
Small Groups

Don't go through this season alone. Join a In-home or Online small group.
Watch Church Online

Each Saturday, Sunday and Monday we gather online for church. Watch and chat with us live!
DOWNLOAD THE APP
The best way to stay connect with everything happening at Sun Valley is through our app. Take your next step, watch sermons and devotionals, and find great resources for your kids and families. Download the app today!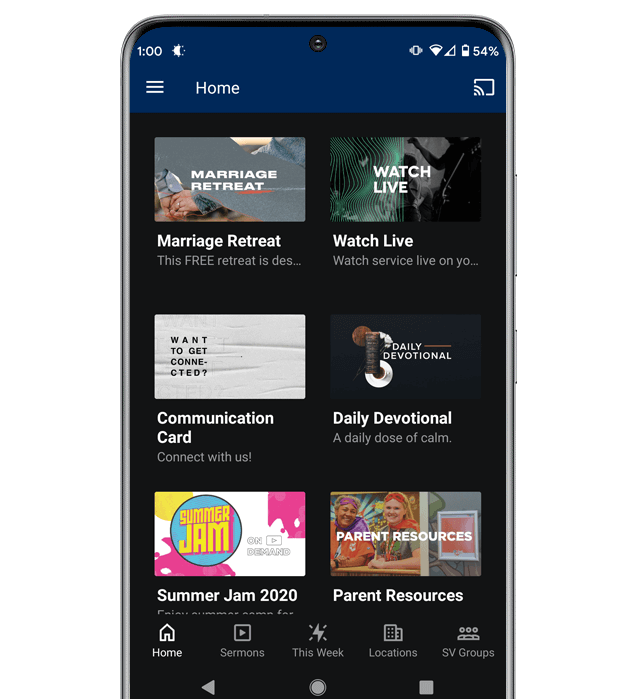 TECH-TIPS for streaming the worship service.
You don't have to have the latest and greatest technology to host church at home. But some attention to detail and basic requirements will go a long way for a smooth experience.
Streaming Platform
We are currently streaming services to the following platforms.
Internet Speed
Don't wait until the start of the service to make sure it works.
Video & Audio
Treat this like you would any sports event, and consider the size of your "congregation."
Play on any TV enabled with Airplay or Chromecast, or with a set-top device, using your preferred streaming platform.
Worship confidently. Make sure you can make it loud enough without hurting your ears or bugging your neighbors.