It's amazing what God has done through you over the past 25 years! Our church began with two families who had a dream to reach the unchurched, and today, over 6,000 regular attendees meet across four campuses. Thousands of people have come to Christ, are growing in their faith, and we are ministering to more all over the world. The sun never sets on what God is doing through the ministry of Sun Valley!
Sun Valley Community Church is not a building we come and sit in, it's a movement we choose to be part of to help people meet, know and follow Jesus. In 2016, we are launching a new initiative called The Next Chapter, which will expand on what God is already doing in and through us.
It's about investing in our friends, facilities, and future. The potential is astounding!
If we can complete the goals outlined here, our church will be poised to reach tens of thousands in Jesus name–people like you and like me.
Please pray about your part in this initiative. The Next Chapter in our story as a church means it's the next chapter in your story because you're the church. Every number represents individual lives that will be changed as a result of our investment.
Let's do it!


Helping People Meet, Know and Follow Jesus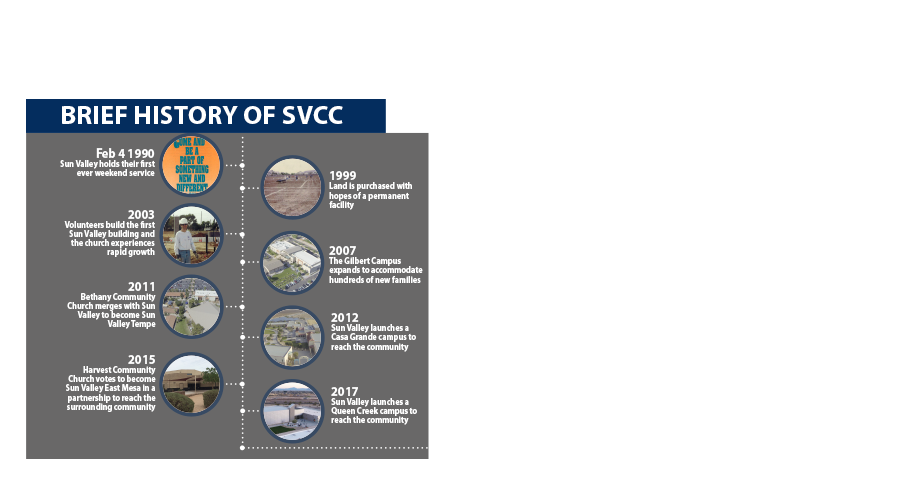 At Sun Valley, we GIVE first, SAVE second, and LIVE on the rest.
Each year, Sun Valley takes a special offering to help one of our signature partners advance their work. As part of The Next Chapter initiative, we will be giving $250,000 to expand the ministry of Orchard Africa.
Orchard Africa was the first Signature Partner of Sun Valley. Over the past decade, Sun Valley and Orchard Africa have been working together to see disadvantaged communities in Sub-Saharan Africa that have been ravaged by the AIDS/Orphan pandemic find hope through the local church.

When Harvest Community Church first launched, Sun Valley asked members of the congregation to consider making Harvest their new church home. Through much prayer and consideration, Sun Valley was given the opportunity to work with Harvest once again, adopting them into the Sun Valley family as the East Mesa Campus. Located next to the rapidly expanding Eastmark development, the East Mesa Campus has a solid community and the same heart to help people meet, know and follow Jesus.
Over the next few years, Sun Valley will:
// Upgrade the facilities, parking, roadway and landscape to accommodate new families from the growing Eastmark community.
// Incorporate audio and visual technology to create a consistent experience across all Sun Valley campuses.

Through a partnership with Canyon State Academy, Sun Valley has the opportunity to meet in the very heart of Queen Creek. Surrounded by one of the fastest growing communities, this campus will not only provide an opportunity for those currently commuting from San Tan and Queen Creek, but will also open the door to the thousands of people without a church home and for future residents.
In 2016, Sun Valley will:
// Furnish the building with 700 seats to serve as a worship auditorium.
// Provide a designated area for children, student, and adult spaces.
// Provide necessary audio and visual technology to launch Sun Valley services in the fall of 2016.

Through the great generosity of a family, Sun Valley was able to expand to Casa Grande in 2012. For the last four years, faithful volunteers have set up and torn down the campus every Sunday at a local school to create an environment for their friends and neighbors to hear the message of how Jesus is still changing lives. In spite of facility limitations, this faithful community has seen more and more of their friends baptized each year. We believe that an established facility will pave the way for rapid growth and impact in this community.
Our goal, in Casa Grande, is to:
// Move from the current high school facility into our first 24/7 facility.
// Provide furnishings and technology for the new facility.
// Create outreach tools for the grand opening of the new Casa Grande campus.
Originally built in 1977, and expanded in 1987, the strategically located Tempe campus has been used to reach several generations with the gospel in Tempe and the surrounding communities. In 2011, Bethany church merged with Sun Valley and together we have seen God do the incredible work of reaching hundreds of new families. Our vision is to see the campus revitalized with a new open courtyard, renovated children's spaces, a coffee shop, and a fresh upgrade to the building exteriors. Located within 10 minutes of almost 1 million people, we believe God is going to continue the legacy of reaching those far from Him through His people in this place.
.
To reach the surrounding community, Sun Valley will:
// Reconstruct the entryway for an open and engaging guest experience campus wide, including a new coffee shop.

// Remodel children's spaces with new theming, and building renovations for the growing community of young families.

// Upgrade existing building with new technology and exterior finishing.

// Market for a grand opening of the renovated campus to the surrounding community.
In 2007, we began expanding our Gilbert Campus to accommodate the rapid growth of the church. Since that time, we have seen thousands of people from the community say "yes" to following Jesus. We will complete the project by moving all offices to a central space and expanding the interior of the Student Center to better help the next generation meet, know and follow Jesus.
Our goal, in Gilbert, is to:

// Complete the final phase of the building project that we begun in 2007 with building out 15,000 square feet of unfinished space.
// Expand space for our rapidly growing student ministry to better reach the next generation.
// Renovate the current children's spaces, including new theming to further engage children and new families.
Thank you for taking the time to review these goals for The Next Chapter initiative and for praying about what God would have you do in addition to your normal giving. My family and I are giving above and beyond, and I'm asking you to do the same.
I know there were a lot of monetary numbers listed in this brochure. Of all those numbers, the most important is 100. If 100% of all who call Sun Valley their church home get involved, we'll have no problem accomplishing this initiative. Every gift is significant, so be faithful to whatever God asks you to do.
I love our church family and I'm grateful to be your Pastor.
My Commitment To The Next Chapter Ending
January, 2019 Will Be Given As Follows